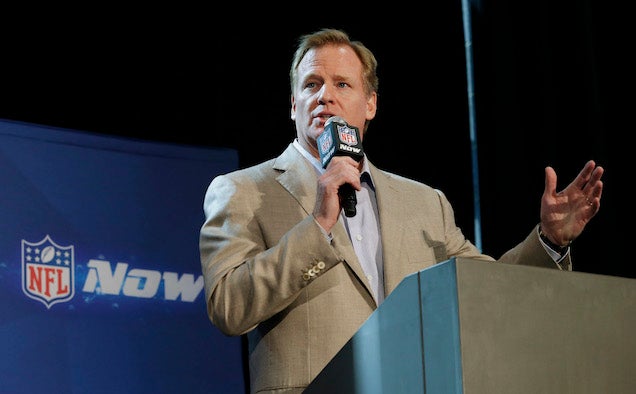 Photo credit: Roger Goodell (AP)
Welp, the other shoe has dropped. *Sigh* I know you are all sick and tired of this never-ending story, but new developments just keep on unfolding. I go into the kitchen for a snack and come out to more breaking news! And this time it seems that our suspicions are confirmed – that the NFL DID in fact receive the infamous Ray Rice video of him punching his now-wife, Janay Rice. And not only were they sent the video….they were sent the video FIVE MONTHS ago! League officials are still insisting that they had not "seen" it. Was it because they received it and chose not to watch it or had they seen it and decide to sweep it under the rug altogether? Everyone needs answers because it will determine if Commissioner Goodell should be able to keep his job if he did in fact try to cover this up.
An anonymous law enforcement official made available a 12-second voicemail from an NFL office number on April 9 confirming that the video had in fact arrived. A female voice on the recording expresses thanks and says: "You're right. It's terrible." SMH……..The law enforcement official said that he could only confirm that the NFL had in fact received the video and not if they had in fact actually watched it before deciding on Rice's punishment.
"We are not aware of anyone in our office who possessed or saw the video before it was made public on Monday. We will look into it.

"- NFL spokesman Brian McCarthy
The NFL has repeatedly said it asked for but could not obtain the video of Rice hitting Janay Palmer.
I'm speechless. Now, the question remains: Is Roger Goodell's job now at stake?
And then there is this…..
Singer Teyana Taylor, 23, has denied any reports that she had any role in the argument that led former Baltimore Ravens running back Ray Rice knocking Janay Palmer unconscious in a casino elevator. In an appearance on "Power 99," a Philadelphia radio station, Taylor set the record straight.
"No, the reason why they were fighting was because they both was dead a— wrong, not because anyone received no texts from me, because I ain't got nothing to do with that," Taylor said. "…This is a big matter. ESPN hasn't said my name, no sports blogs have said my name."
Taylor and Rice are childhood friends, but she made clear that she had no part in his domestic dispute with Palmer, who is now his wife. "What I'm not gonna downplay is the fact that me and Ray, we used to live in the same building. We all grew up together. He used to date my best friend. I was just on the phone with her and she was laughing, like, 'Teyana, don't even feed into that,'" she said.
"I don't have nothing to do with that. I ain't never touched that man, and I ain't got no reason to lie. But what y'all not gonna say is that I was the reason why that happened in that elevator, cause I don't have anything to do with that," Taylor stated.
BLOOP!!! I wouldn't want my name all up in this mess either!